Hey girlies! I'm a super happy camper today because I unexpectedly found my new makeup storage solution! It was just a normal day when my mom and I were shopping at Fairview Mall when my dad gave me a call to stop by Ikea to pick up a table for our flat screen TV. I wasn't planning on buying anything, but I realized I needed a new solution to my growing collection of makeup!
I've been collecting now for a bit more than 2 years, and the rate at which I haul makeup has slowed down quite a bit since I've got all that I need so I try to buy less. The storage unit cost me around $50-60 in total which I think is totally reasonable because of it's size and stability. I've been looking for something similar to the metal drawer sets that most girls on youtube have, but I felt slightly turned off because it seemed a little flimsy. I found a better alternative that seems a little more sturdy to me since it's made of wood and I actually had fun while assembling it!
As you know, I'm definitely not bragging and I'm posting this because I love reading about other people's makeup collection and have done two of them in the past. I'm doing an updated one now because I really do love this storage and hope you guys do too!
It's green and white! Well, I wanted pink drawers but they only had green for the ones that were the same size as my unit. Its super sturdy and holds all my makeup!
Nail Polishes:
This is my temporary nail polish solution because some of the glue came off on the other one, so this is just going to have to go for a while! The tray is actually supposed to hold cutlery, but works really well to store makeup!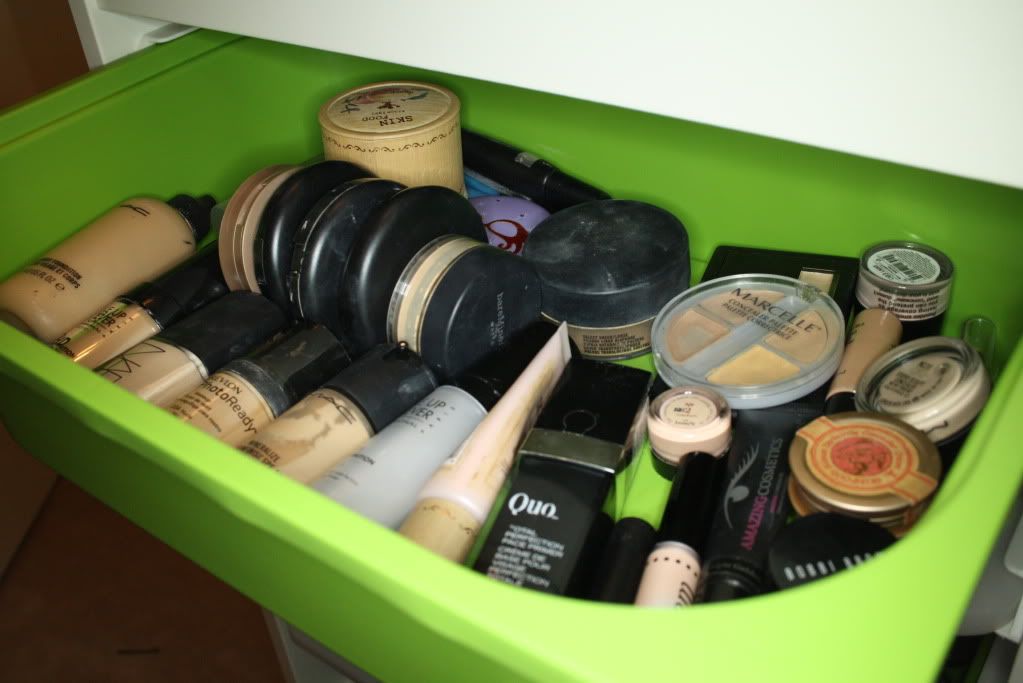 Face Products: Foundations, Primers, Concealers, Primers
For a person who doesn't even wear foundation regularly, I think I've got a bit too much! My favorite amongst all my foundations and concealers must be MAC Face & Body Foundation, Bobbi Brown Corrector, and Bare Minerals Matte Foundation. But if I could only wear one face product, I'd wear the corrector! It's cause dark circles are my worst enemy :(
Cheek Products: Bronzers, Blushers, Highlighters
Blush/Bronzer has quickly become my favorite makeup product! It used to be eyeshadow but now I can't live without bronzer! As you might be aware, my favorite bronzer ever is NARS Laguna, favorite blush is ELF's Peachykeen, and favorite highlighter is NARS Albatross! Man... NARS makes some kick ass cheek products!
Mascaras, Eyeliners, Pigments, Cream Shadows, and Primers:
This is probably one of my most loved drawers as well, since I probably use the stuff here the most! My favorites in this drawer involve my UDPP, MAC Fluidlines, and YSL Faux Cils Mascara.
Lip Products: Lipsticks, Lipglosses
I don't think this drawer has grown all too much since my previous makeup collection post from a year ago, but I still love everything in it nonetheless. My favorite lipgloss in the entire world is Revlon's Life's A Peach Lipgloss, favorite lipstick is MAC's High Tea, and favorite lip balm is Korres' Lip Butter in Jasmine!
Eyeshadows: Singles, Duos, and Trios
I loooove this setup actually! This cutlery tray that I bought from Ikea works perfectly towards storing my individual eyeshadows and makes everything look super organized. My favorite eyeshadows are from my NARS Essential Eyes palette, and also my NYX single eyeshadows!
Skincare Products:
It's mainly all the Skinfood products I got from Hong Kong during the Christmas Break, and all of this works super well for my skin! I just wish I could buy everything in North America...
Row 2: Tan Pigment, Wedge, Chocolate Brown, Satin Taupe, Knight Divine
Row 3: Charcoal Brown, Shroom, Copperplate, Smoke & Diamonds, Woodwinked
Row 1: Deep Truth, Contrast, Strike A Pose, Cool Heat, Annabelle Shadow in Laguna
Row 2: Scene, Bottle Green, Haunted, Aquavert, Brill
Row 3: Gorgeous Gold, Sumptuous Olive, Henna, Blue Brown, Club
Row 2: Glamour Check, Antiqued, Sketch, Claire De Lune, Melon Pigment
Row 3: Circa Plum Pigment, Expensive Pink, All that Glitters, Lightfall, Vex
Alright so that's everything for my makeup collection! I wouldn't say I'm 100% satisfied with the setup since it's almost full so I can't fill it with more! However I do really like it since it feels so much sturdier than my old one and looks super chic! I hope you enjoyed this post!