onestly, I expected this haul to be up about a month ago! But why not, because it had just arrived to me yesterday! I'm going to leave my RANT to the end of this post, but as you can see, this haul mainly composes of brushes because I heard some lovely things about their new mineral brushes and wanted to give them a try on my own. It's not a huge haul, just some essentials and some new brushes!
Seee! Told you it's all brushes!
ELF Cream Liner in Metallic Olive
This is sooo me! If you've been following my blog, you might notice that I do a lot of looks involving greens and khakis simply because I love greens on my skintone! This makes a wonderful everyday liner because it's green, but in a very understated way. Loves!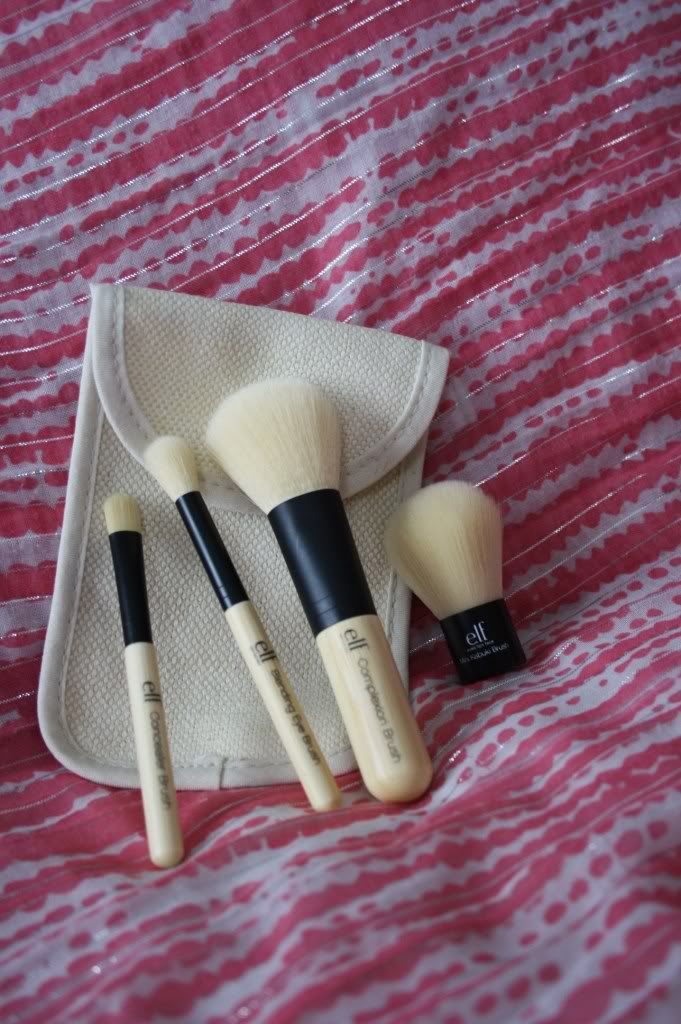 ELF 4 Piece Mineral Brush Set
This is a pretty good deal all for $10! It contains the eyeshadow blending brush, concealer brush, complexion brush, and the mini kabuki brush. The only downside I can see towards this brush set is that the handles are a bit short which make it harder to handle. Otherwise, it's a great deal!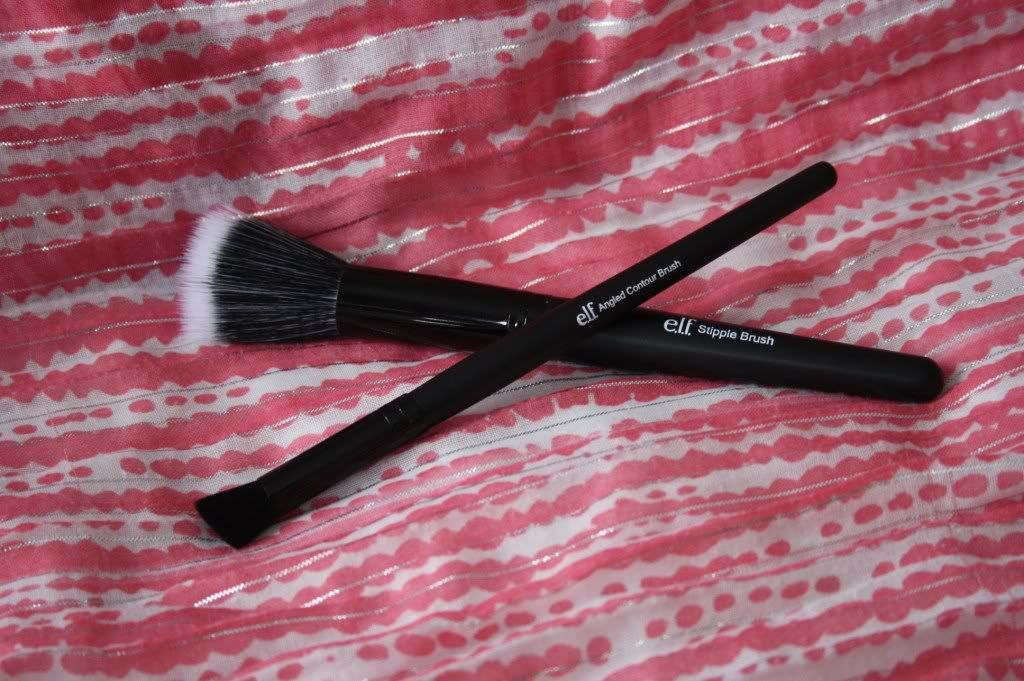 ELF Studio Contour and Stippling Brush
I've been eyeing the contour brush for a while now since it's perfect for me to apply my undereye powder! I've also been waiting for ELF to come out with a stippling brush, but sadly it seems to disappoint. It's flimsy and doesn't blend very well.
ELF Mineral Foundation and Angled Contour Brush
SO sorry for the dirty foundation brush! I actually used it this morning and didn't have time to clean it yet. Glad to say, these are SUPER soft, and I predict them to work really well. The foundation brush doesn't really leave streak marks for me, but it does stain easily.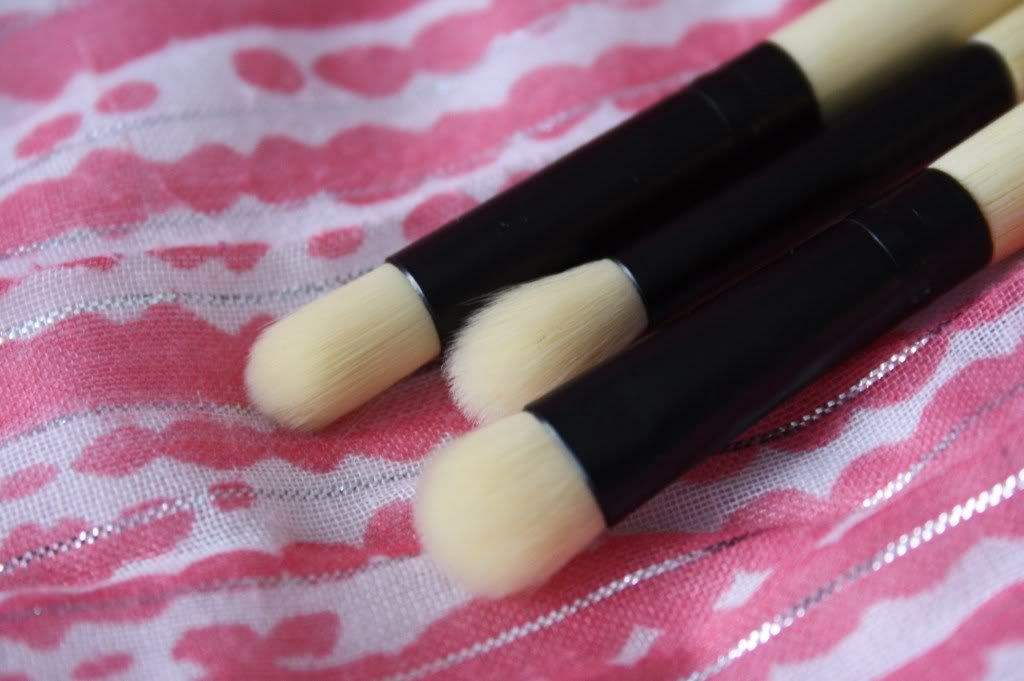 ELF Mineral Blending, Eyeshadow and Contour Brushes
As of right now, these brushes feel super soft and durable! They aren't quite dupes of MAC Brushes, but not bad considering I got them for less than $3 with my coupon code! I definitely recommend them!
ELF Studio Tinted Moisturizer
I've actually heard a bad review on this saying it doesn't really cover anything, but for me it seems to do a decent job! Since it's winter, I'm really pale and this is able to give me a little bit of color!
ELF Studio Complete Coverage Concealer in Light
I reallly really really like this! I won't say love because I don't think it will replace my Vichy Dermablend, but it's still great! It's opaque, gives nice coverage and feels lightweight. Probably one of the best ELF concealers!
ELF Studio Brush Cleanser
Not much to say about this, but it smells like body spray! I loove the scent of this. I needed this because I'm constantly running low on time to wash my brushes, antibacterial wash is necessary!
Okay so now for my rant...
Alright, so... I placed my order during the ELF Cyber Monday Sale where I found a coupon that worked for 55% off your entire order. So precisely, I made my order on November 29th. I had waited and waited, but never received a shipping confirmation email from ELF which I ALWAYS GET when I order from them, and that was when things started getting fishy. I waited for two weeks, so I got impatient and went onto the ELF site to check my order status. It had finally said SHIPPED on December 10th, which is precisely 12 days after I placed my order. What kind of company takes that long to process an order? My ELF orders in the past have never taken longer than two weeks to arrive, so this is outrageous. I've made more than 4 orders from them in the past so I'm NOT a new customer. So I saw that it was shipped on Dec. 10, so I waited patiently and expected it to arrive before Christmas. Oh guess what, nothing. So I emailed ELF, asking why my order has taken so long to arrive, and I received an automated answer saying that they got my email and will be replying within 72 hours. Guess what? NO ANSWER(even checked junk mail!). I waited throughout the Christmas Holidays, and it STILL didn't arrive so I decided to call their CS line on January 4th. So I called, reached the part where they direct me to a customer service rep, and asked me to hold. So I patiently held waiting for TWENTY minutes, and it still was not available. Seriously? 20 minutes? What kind of CS is this? So I emailed them one last time on January 8th, asking where my order is and this time, finally got a reply. They said they had believed my order was lost in transit and offered to reship it or refund it to me. I asked them to reship it since I really wanted those brushes. Low and behold, they finally arrived yesterday. January 12th. It took 45 days to get to me! What is this? On top of all that, they didn't even ship me my black cream liner! They just said it was out of stock but still charged my credit card. UGH! I'm not going to bother arguing with them over $3, so I'm just going to leave it. Well, I'm expecting to receive my items again sometime soon. Anyone smell a giveaway? I don't feel as though it's right to take double the amount of products from ELF, but after all they did to me, I feel like it's better just to give it away to you guys. Okay, rant done. Elf, you disappoint me.