Wow! Posting two days in a row is almost miraculous! I've actually just been feeling rather inspirational and motivated these days.. Also since I recently got the chance to try one of the rather hyped by products in the world of makeup junkies. I've heard wonderful reviews of this mascara by numerous bloggers, such as
Nicola
, and Michelle Phan. Another mascara that claims to give false lash effects... can it be too good to be true?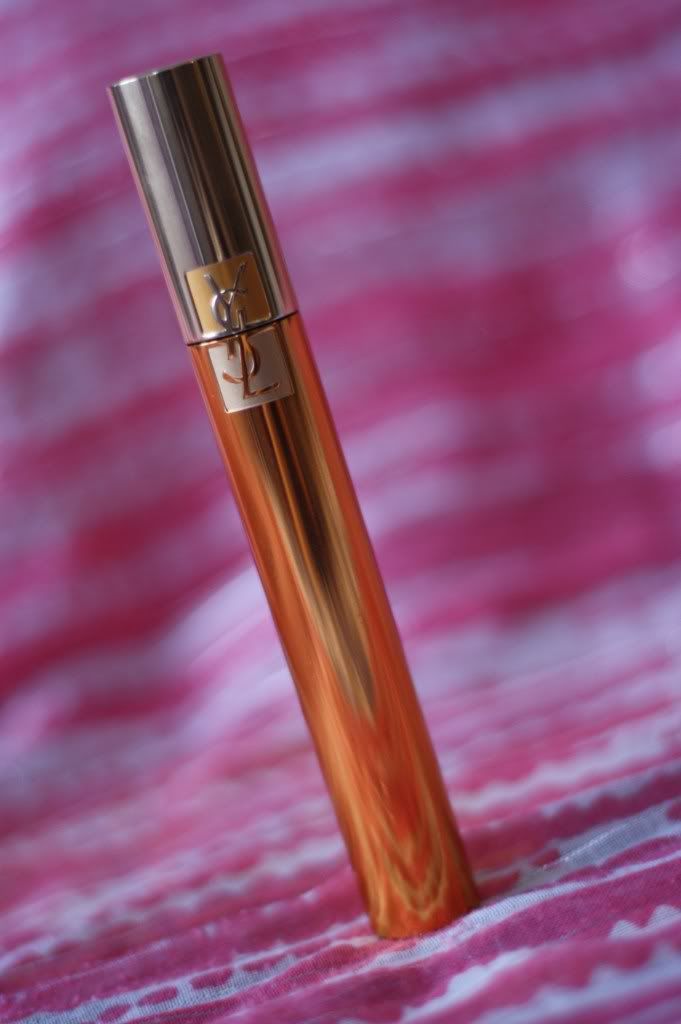 I won't lie, the packaging was one thing that caught my attention right away. I mean, how classy does this look? It's gold, shiny, and just looks like luxury in a tube to me. I also love how YSL is imprinted on the side of the tube, and looks so nice. Oh also, remember when you're closing the mascara, hear the clickly sound! It ensures that you're not allowing air in to dry up your mascara.
The brush is sort of like the traditional mascara but except it's bristles are a bit shorter and easier to manipulate. It's not like an overwhelmingly big brush that gets all over your eyelids and messes up your makeup!
Pros:
-Excellent volume and length - it's a two in one mascara!
-Doesn't smudge a lot, despite not being waterproof.
-Quick to apply, and layers on very quickly - saves time in the morning!
-Tt's a dry formula which means it can allow layering for thicker lashes - but now so dry that it doesn't apply anything.
-Tt doesn't clump at all! Even when I layer it on for a more dramatic look, the lashes still look separated instead of being clumped together.
-Super easy to remove! All you need is warm water, and I usually remove this in the shower.
-The price is absolutely insane! It's $30 USD, which is probably 3x the amount of the average drugstore mascara.
-Doesn't curl exceptionally well, and if you have straight lashes you're going to need an eyelash curler because the mascara isn't going to do it for you.
Here's some before and after pics!
No Mascara, One Quick Coat, Two Coats
Looking Straight
For some reason, in the photo it looks like my lashes tiny, but trust me, in real life you can see them! The first coat does a pretty huge difference with curling and volumising, and makes my lashes a lot more visible. I love that a few swipes of this can make a huge difference, and doesn't require me poking at my lashes for 10 minutes.

No Mascara, One Coat, Two Coats
Looking Up
As you can see, the biggest difference is the length of my lashes. I think it does the crazy length by adding volume to my top lashes to make them seem longer, and it just works well. The color is really dark so it really does bring out your eyes.
Overall
If you've got small, short lashes and don't mind the outrageous price of this mascara, I'd say definitely give it a ago!
Rating: A-