So I've realized that my last post was almost two weeks ago, and I apologize! To well, whoever likes my blog :) But you know the plain old excuse, I have tons and tons of work. Not going to lie, I got off school at 4 yesterday, and worked until 12. Then slept. Then the day repeated itself. Well, that was only yesterday because I had a big thing due today and now I'm free! Or well, until the next big thing is due which is probably in a few days, haha. On a more "makeup-y" note, I'm working as a theatre makeup artist for a play at my school that's going to be taking place next week, which also explains why I haven't had much time to myself because there's been a lot of rehearsals and such. It's going to be an Alice in Wonderland themed play and I'm pretty excited, those Kandee Johnson tutorials work!
Well, from now on I don't have a choice but to make my posts few and far apart, but I'll be for sure free for the Holidays! I've got about two and half more painful weeks to go and I'm off! My mom is actually heading to Hong Kong on Sunday and will be returning after Christmas with tons of asian goodies! Can't wait to see the haul that she's going to bring me.
This post is going to be a little mishy mashy, hope you guys don't mind!
So this one is my first FOTD, and it was actually the past weekend when I went out for a movie with the boy :) It's nothing too spectacular, I actually used some olive shades on the lid but it looks just neutral! Argh!
Face:

NARS Sheer Glow Foundation
Maybelline Dream Mousse Concealer
MAC MSF Natural
MAC Earth to Earth Mineralize Blush
NARS South Beach Multiple
Lips:

Sublime Shine Dazzleglass Creme
Eyes:

Urban Decay Primer Potion in Sin
MAC Ricepaper, Club
NARS Earth Angel Duo (Olive)
Urban Decay Oil Slick and Flipside
ELF Cream Liner in Midnight
Clinique High Lengths Mascara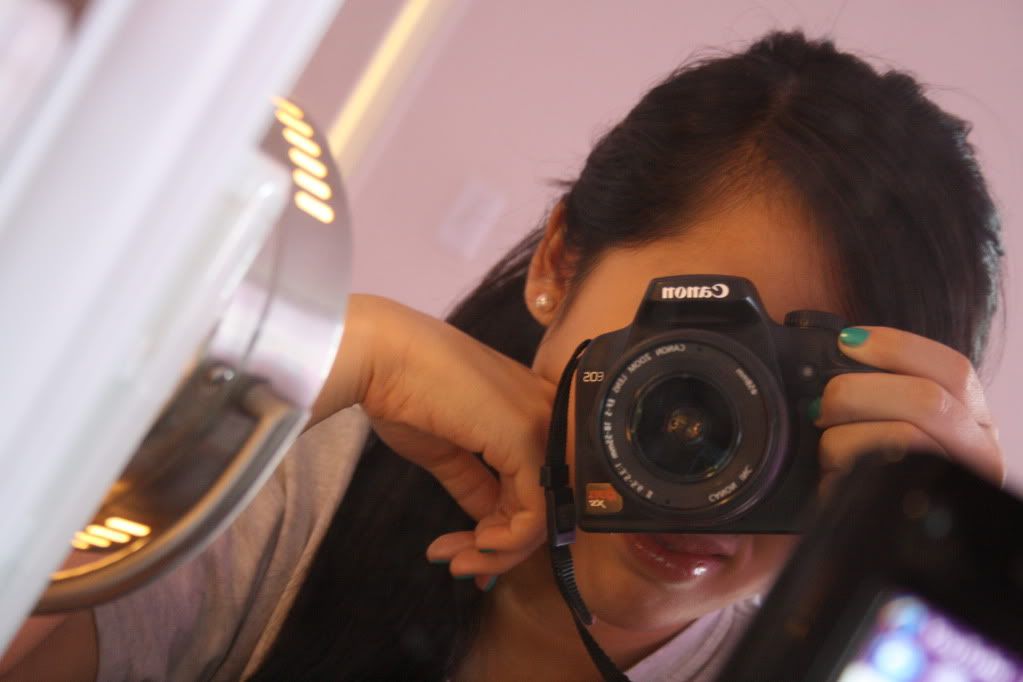 This one was from Monday, which I had the day off school so I was kind of bored and just played around with my makeup and camera. Excuse the tied back hair and gym clothes! They're comfy :) This look is what I call the, Minted Frosty Purple.
Face:

Quo Foundation Primer
Smashbox Camera Ready Concealer Stick
Bare Minerals Matte Foundation
MAC Well Dressed
Lips:
Revlon Super Lustrous Lipgloss in Shine City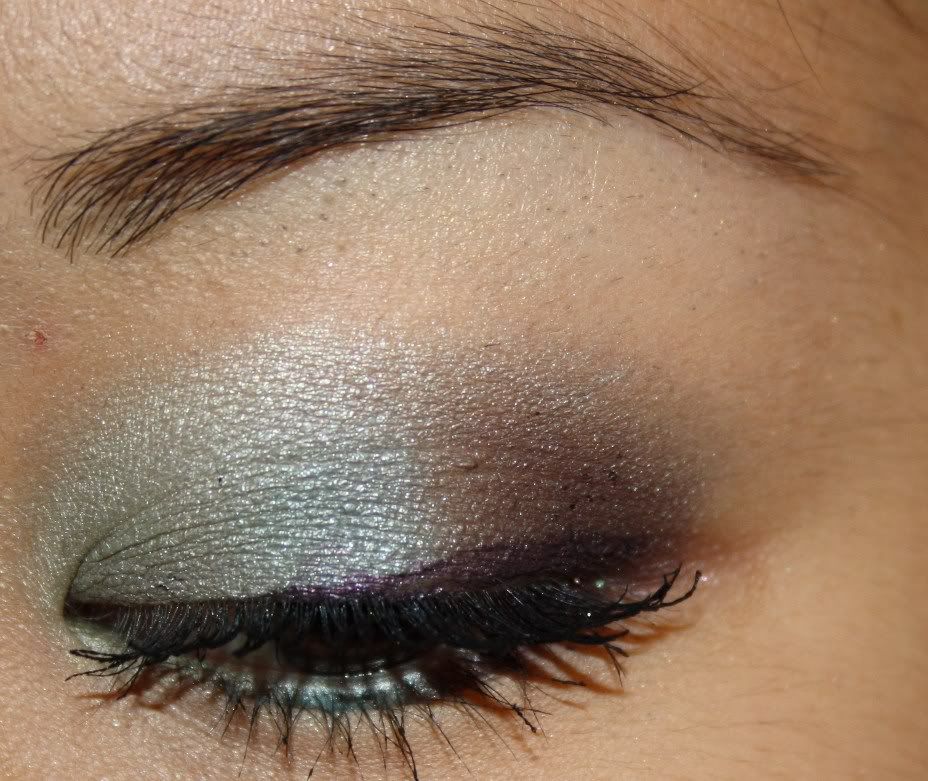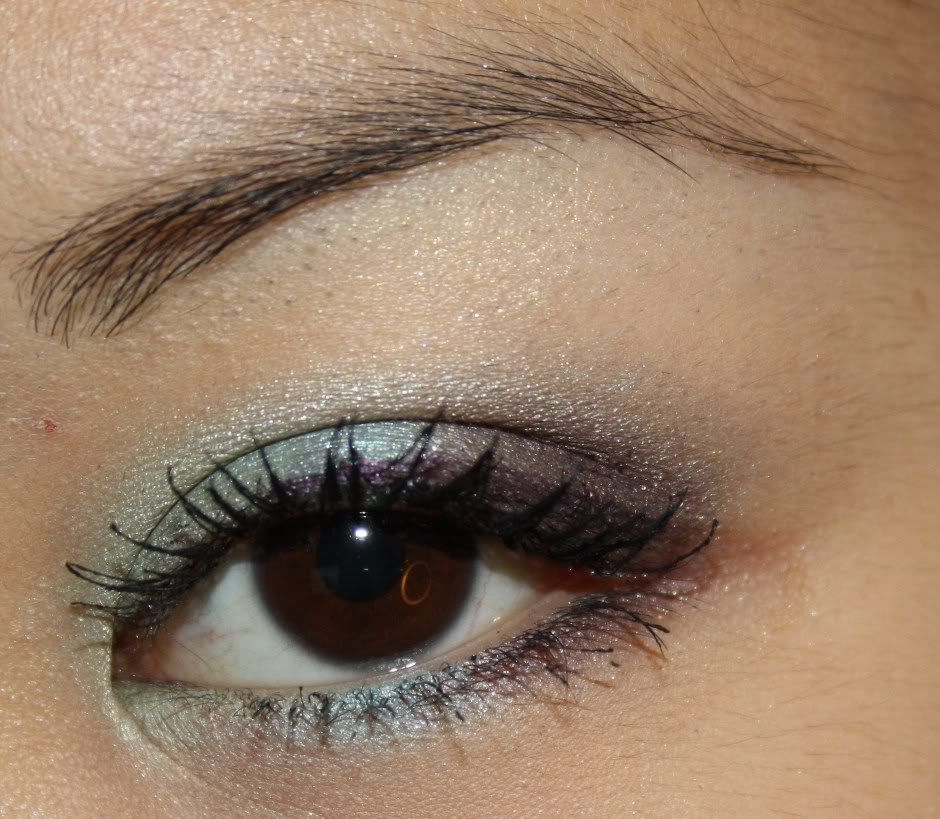 Eyes:
MAC Greenstroke Paint Pot
MAC Aquavert Eyeshadow
Annabelle Laguna Eyeshadow (DC)
NARS Habanera Duo (Purple
MAC Macroviolet Fluidline
MAC Fly By Blu Pearlglide Liner
Givenchy Phenomen'Eyes Mascara
This is kind of like a, NOTW ish, kind of thing. I'm not crazy on nails so it's usually just one color a week for me, hence the fact that I only own about 10 bottles! I used
China Glaze's Turned Up Turqoise
with a top coat because it's a matte polish, and I'm more a fan of shiny.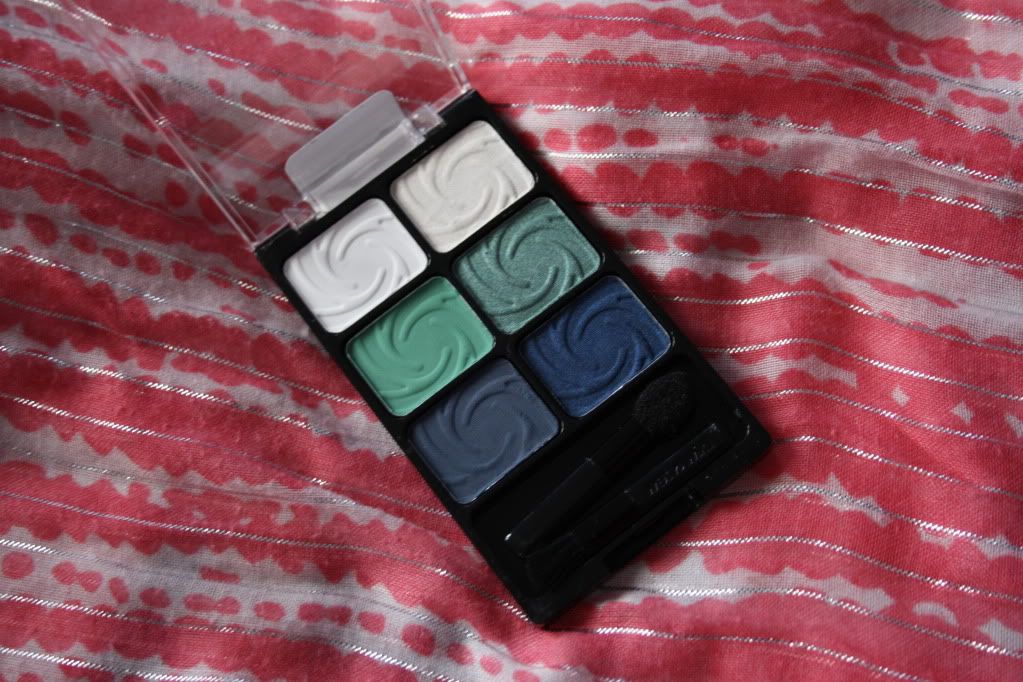 Lastly, I picked up a Wet and Wild Palette in Pride, such pretty vibrant colors! Honestly, I have been meaning to pick one of these up as I heard wonderful things about them and they're just so cheap! This was $4.99 and for the quality I get, it's absolutely wonderful. It contains a matte white, turqoise and navy, as well as a shimmery white, aqua and jewel blue.

Okay so, that's about it! I hope you're all having a wonderful first day of december :)