The title's kind of weird, I know! Personally, I'm not a super photogenic kind of girl, and my skin really isn't as perfect as people think it is! But this is essentially the look I do whenever I know I'm going to take lots of pictures. (minus the lips ofcourse, I just got bored) It makes your eyes look very bright, but at the same time emphasizes them with the dark gray in the outer corners. It creates sort of like, a wide eyed look without any circle lenses.
For the face, I actually don't like wearing thick foundation for absolutely no reason. I find that foundation doesn't always make my face appear nicer in photos, but actually makes me look kinda of cakey and sweaty, yuck! So I go with concealer and powder foundation, feels so much better!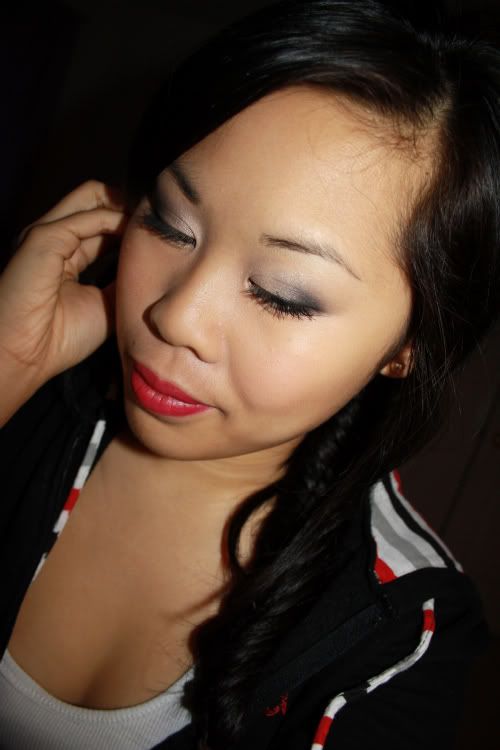 Face:
Makeup Forever
HD Primer
MAC
Concealer Stick (Discontinued)
Bare Minerals
Matte Foundation
Cheeks:
NARS
Riviera Multiple
NARS
Lovejoy Blush
Ahhh! Please ignore that random blab of mascara that accidently got on my lids... Hate it when that happens!
Too Faced Shadow Insurance
MAC Zinc Zone Greasepaint Stick
MAC Femme Fi, and Scene Eyeshadow
Urban Decay Oil Slick Eyeshadow
Urban Decay Zero 24/7 Liner
MAC Zoom Lash Mascara
Annabelle Fuschia Lipliner
Nivea Lipbalm
Here's something that I think really needs to be mentioned...
I watched
Kandee's video
yesterday, and this really broke my heart. Here's a young girl named Kristie, who's suffering from an unknown illness that's taking her life and her boyfriend Brian is fighting in order to keep his dream girl alive. Her story is absolutely sadening to me. My own auntie is suffering from lung cancer right now and has only been given a few months to live. I definitely think we need to all work together to save this precious life, even if we don't know her. All you need to do is pass around her video, and the word about Kristie in order to get someone to help her. All her doctors have given up on her, and we're really her last chance. So let's work together and make this miracle happen.