So I've realized this mascara has gotten a ton of hype, but then again, it also hasn't. It's kind of contradictory but when I tried to find some reviews before buying this mascara, there weren't that many! I'm sure tons of you heard about this; the odd torture ball-look-a-like brush and it's promises to make amazingly long lashes. I was one curious little girl with high hopes of transforming my kind of "meh" lashes into something spectacular. Let's see how that went.
Sephora Says:

Givenchy Phenomen'Eyes Mascara perfectly curls and separates lashes. It has a high-tech, patented round sphere at the tip of the precision wand that reaches every lash and adapts to all eye shapes. It's a Sephora exclusive.
Erica Says:

I'm going to get straight to the point. This is a good/great mascara. It lasts an insanely long time, has no flaking, smudging and dries fairly quickly. It's all what I prefer in a mascara really. It also lengthens my asian lashes quite well, and adds a good amount of length and volume. (You can see for yourself below) However, there are several drawbacksthat make me reconsider how much I like this mascara. I got the waterproof version because I heard many fans of this mascara complain about it's constant smudging, and panda-eye syndroms. The waterproof version does combat these things very well, but contains one major thumbs down for me. This thing is insanely hard to remove! Also, the price is pretty rediculous.
Curling/Lengthening: 9/10

I'd say this is more a lengthening mascara than curling, as you can see a noticable increase in length for my lashes. Curling is alright too, but it's not the main purpose of this mascara.
Long Lasting: 10/10

This baby would last days if I didn't remove it! It doesn't smudge one but, and never creates panda eyes. I haven't experienced any flaking or rubbing onto my lower lashes with this mascara so it's all goood.
Cost: 5/10

This thing is $32 CAD, when I first thought that I spent over 30$ on a single mascara, even I freaked on myself. However, for the quality you get, I do believe it's kind of not worth it. If I got to pick again, I'd probably get this if it were 10$ cheaper.
As usual, there are some before and afters:
BARE LASHES: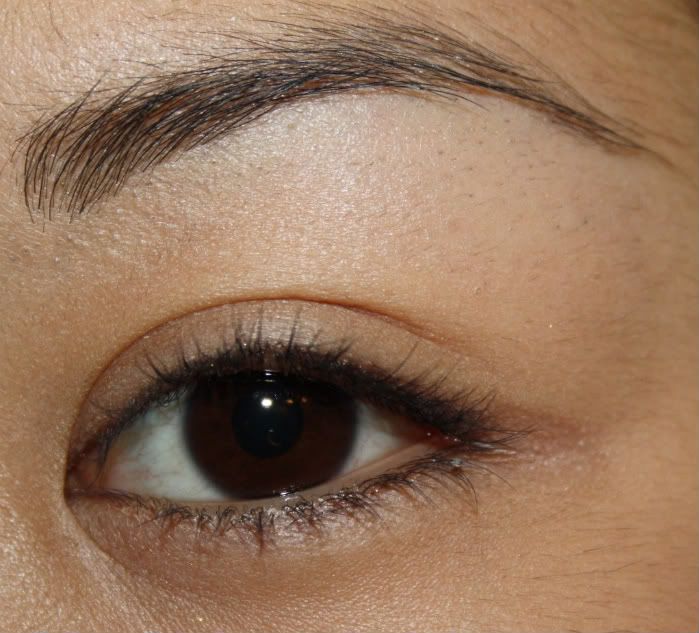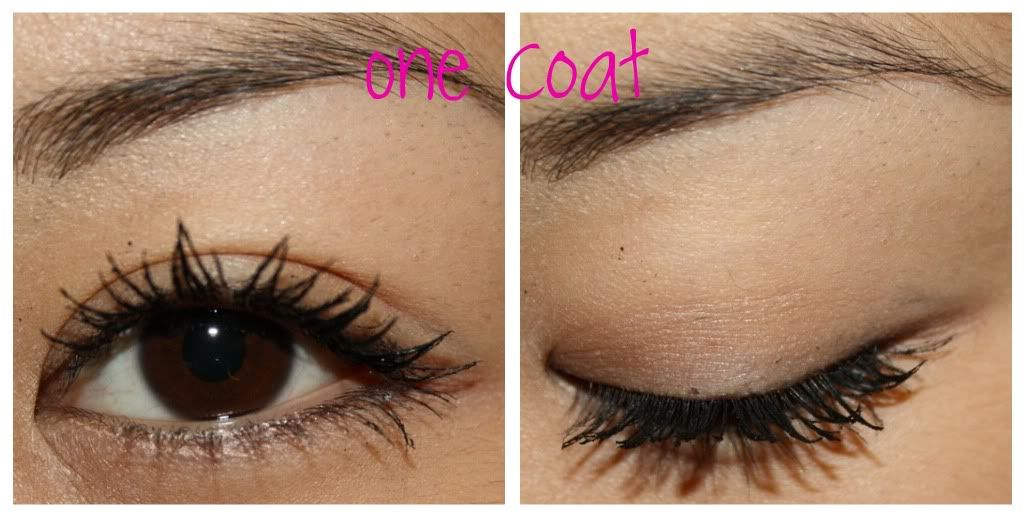 As you can see, layering doesn't really do a dramatic difference, if any! It does a pretty good job at lengthening and volumizing my lashes, but I can't exactly say anything about curling since my lashes curl naturally. I don't advice you guys to layer this mascara because it has a tendancy to clump, and you can see it's begun clumping by the second coat.
I really like how the wand is so short, and it really gives me more control as to where the tiny little brush goes. The brush is kind of like a flat rounded ball with soft spikes on it, and really helps to grab onto every single lash without overcoating the ones in the middle. I really do like this brush!
Overall: B+
I recommend this to you if you're the type of person who has watery eyes, work in moist conditions, or simply wants their mascara to last for ages!