Hello lovely ladies! It's a super chilly and windy afternoon in Toronto.. and since school is just around the corner, I really needed to pick up some supplies. I dropped by the mall and didn't expect to stay for too long, especially since it was jam packed with moms/strollers and middle schoolers hanging out! I just went to get a jacket since it's SO COLD and picked up a few things along the way. I knew that Shoppers Drug Mart (THE Canadian Drug Store) had a sale on Revlon lippies for $3.99 this week! I picked up 4 things since the $4 price tag was only applicable to the first 4. If you're Canadian and on the hunt for some awesome lippies, RUN to your closest SDM!
Life's A Peach, Shine City
Life's A Peach, Shine City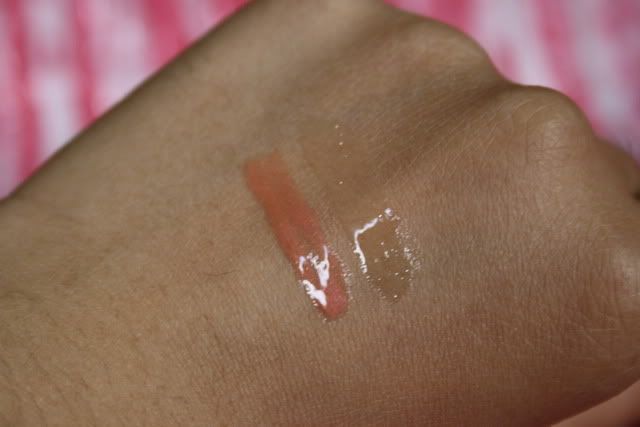 Life's A Peach, Shine City
Revlon Super Lustrous Lipglosses
When I went to my local SDM, all the colors left from the Super Lustrous Lipglosses were kinda ugh! Most of them were deep rosey colors which usually aren't too flattering on my skintone. But these two are absolutely gorgeous! I'm personally a huuuge fan of peach lipglosses and "Life's A Peach" was my FIRST CHOICE. Shine City really reminds me of a Chanel Glossimer in Galactic! The real amount of glitters aren't properly shown in the swatch, but nonetheless, it's a gorgeous glittery gloss!
Revlon Matte Lipsticks
Really Red
Nude Attitude
Really Red, Nude Attitude
Revlon Matte Lipsticks
Honestly, who hasn't tried these?! I loooove Really Red! I've heard a lot of people say that these are like crazy drying, but I personally don't find it a problem, since I usually apply lip balm before lipstick anyways! I haven't tried Nude Attitude on my lips yet, but it seems like a nice color :)
PS. I feel like dying my hair tomorrow! I'll definitely update you guys on it!