My friend Jacqueline and I want to actually start a teeny little business together by doing people's makeup and nails. Oh my, Jacqueline's PRO at nails! She does her patterns on her own, and she owns more than 100 bottles of nail polish. Insane right? We've been thinking about this for a while, but haven't exactly thought of a way to kickstart the idea. But before we do anything, we must have something for clients to look at! So basically, today I called up some girlfriends in hopes of building up some sort of portfolio for future uses! Since I now have my DSLR, the pics look much better and professional compared to my previous camera! I did different looks on each of my friends and they happened to all like them :)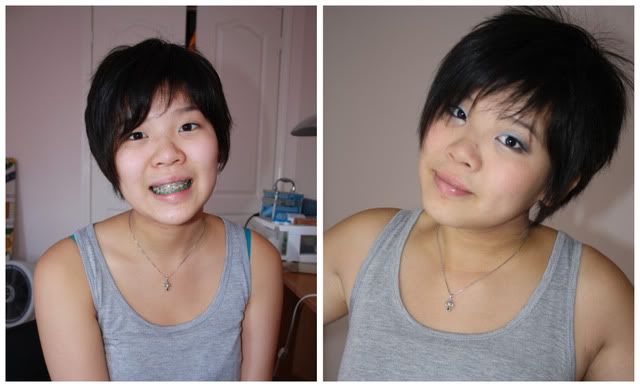 Meet my best friend Natalie! She's a quirky, fun, and bold chick. She's always up for a new makeup looks from me; haha, shes always my model. I don't know any girl who can pull off the edgy boy cut better than her! She's of chinese descent, has typically asian eyes with one monolid and one double lid. I asked her what she wanted, and she dared me to do bold, so I took the challenge :)
I did some silver smokey eyes on her, and she obviously pulls off the look well. I used NYX's Silver on the inner corners of her eyes, and NYX's Rock and Roll Trio (Brown) on the outer lids, and the gunmetal shade along the lashline. I lined it with Blacktrack, and plumped her lashes with Lash Blast!
I evened out her skintone with some Studio Scuplt concealer and blot powder. Her cheeks needed some warmth so NARS Lovejoy was the way to go! Her lips went neutral, with Fashion Scoop Cremesheen glass.
Meet my childhood friend Priscilla! She's usually a makeup safe girl, and goes just mascara on a daily basis. I didn't want to go too bright on her since she prefered neutrals! She asked me to teach her the basics for an everyday look with shadows, and this is what we came up with.
For this look, we aimed for something really quick and simple for the mornings! I used MAC Femme Fi for the inner half, and Satin Taupe for the outer lid and lower lash line. I lined her eyes with Bobbi Brown Mohagany Ink, and lengthened her lashes with Clinique High Lengths.
She had a birthday to go to later that night, so we applied Face & Body Foundation for flash photography. I applied NARS Laguna and Orgasm to give her cheeks a little color and pop. I also just used a little bit of lip balm because she hates sticky lips!
Meet my friend Stephanie, she's Italian, French, and Irish. She's also a skater and has the most amazing athlete's body! She's got beautiful dark features with pale, creamy colored skin so I figured I couldn't go too dark on her since it would wash out her complexion. I asked her for what she wanted, and she said: "It's all up to you," so obviously I went bold. Ha!
I primed her eyes with Greenstroke Paint Pot to serve as a base to the blue shadows, and I used MAC Brill for the inner lids, and Strike A Pose for the Outer lids. I lined her eyes with Midnight Cream Liner from ELF, and highlighted her brows with some Shroom.
I applied some NARS Laguna to warm up her complexion, and then I applied some Well Dressed on her apples. For lips, we went neutral with some more Fashion Scoop Cremesheen glass.
Meet my friend Lindsey, she's your typical tomboy, and pretty much never wears makeup, unless it's for something super special. Not going to lie, it took some effort to feature her here on my blog! But she eventually said yes :) She actually has beautiful features, but she doesn't try to accentuate them so makeup can do a lot for her! Ofcourse, I promised her to go neutral, so here it is.
I very simply smudged some Satin Taupe on her upper and lower lashine, and added a little bit of Ricepaper onto her inner corners to brighten things up. Mascara and liner can make a huge difference on her! So I lined her eyes with Dipdown Fluidline, and added some Colossal Volume.
Her bags were her biggest problem, so I concealed them with my 10 Concealer Palette, and evened out her skintone with Studio Fix Powder since she hates the feeling of foundation! Some MAC Summer Rose was used to add a little bit of girly-ness to her cheeks, and MAC's Brave New Bronze was on the lips!
PS. Do any of you have tips on how to kickstart a freelance career? Let me know!