Hello girls! So on a day that my boyfriend is with his men... guess what I did? I went to the MAC Warehouse Sale! This is my third time going, and I'm getting so lucky these few times of sales. This time around, I thought the eye product selection was amazing, as there was a gazillion things to choose from, but a lot of them were glitters. Which I never purchase. However, I got a few eyeshadows cause I find that I have most of the pigments that were on display anyways... so yeah. Didn't bother with those! The face product selection was just alright, I already had most of the MSFs that they were selling, so I didn't bother with any of those.
I saw a looot of stuff from collections such as Rose Romance, Sugarsweet, and Style Warriors. I saw a few of the Dame Edna face powders which were gorgeous! Theres also a bit of stuff from Blonde Brunette Redhead, as well as Makeup Art Cosmetics! Also, this time they were selling some REAL rare stuff! Hello Lollipop Loving! I snatched it as soon as I saw it!
lets get started with the stuff...
woow it actually looks so little! but in real life, i still think it's a lot of stuff!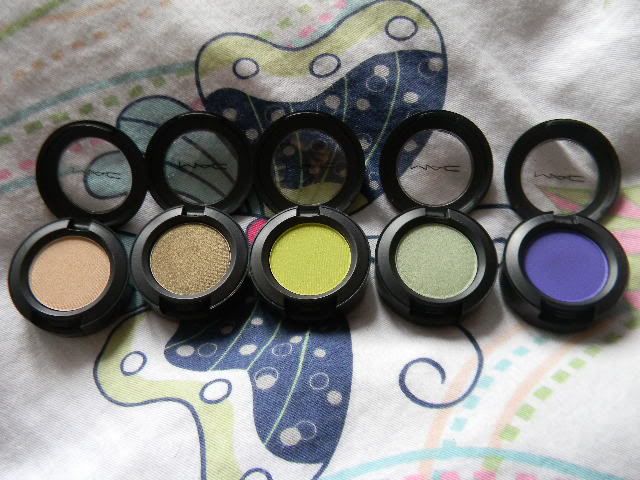 L-R: Femme Fi, Henna, Bitter, Aquavert, Violet Trance
Eyeshadows(9$ each):
This time around, all I picked up was eyeshadow! I used to love getting pigments cause I felt like they were such great deals, and they are! But considering fact that they're so inconvienient to use, I wanted eyeshadows! However, I almost had all the pigments at the sale that they offered, and there were some others, but not ones that I wanted badly!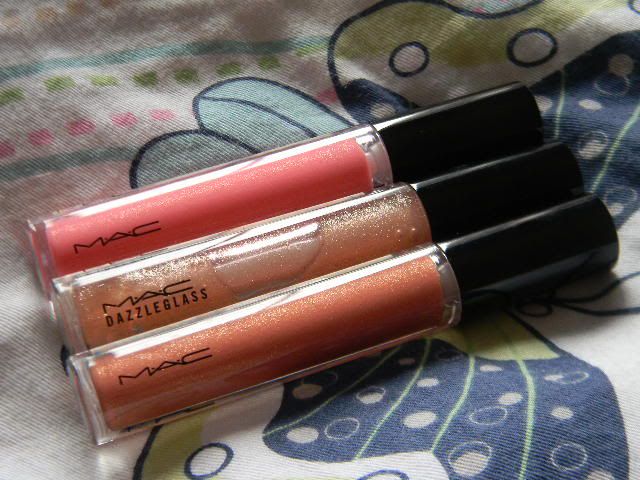 Top to Bottom: Totally Unordinary, Phiff!, Sublime Shine
Top to Bottom: Lustrewhite, I forget HAHA, Honorable, Contessa, Splendid!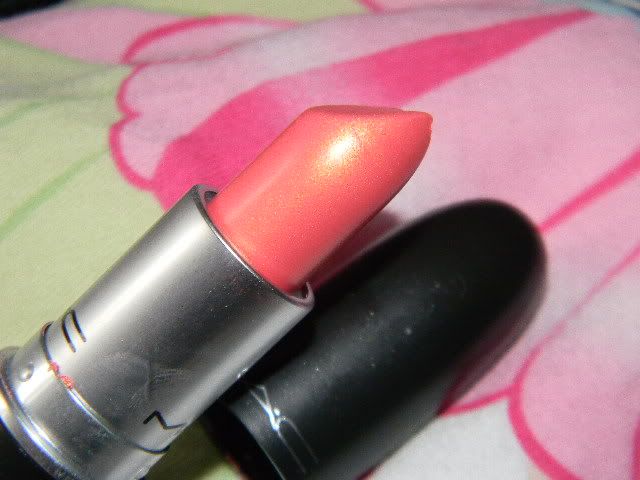 Lollipop Loving!
Lip Products(15$ BOGOF):
The lip products this time were $15 dollars each, buy one get one free. Last time's deal was muuuch better, but this time I found better stuff! Lollipop Loving was an absolute MUST HAVE, since I heard a ton about it from youtubers and bloggers, especially sanderlees! I'm happy I got the dazzleglass cremes cause theyre really pigmented and are so much better than normal dazzleglasses! I think the mini lipglasses are SO cute, especially since theyre 3$!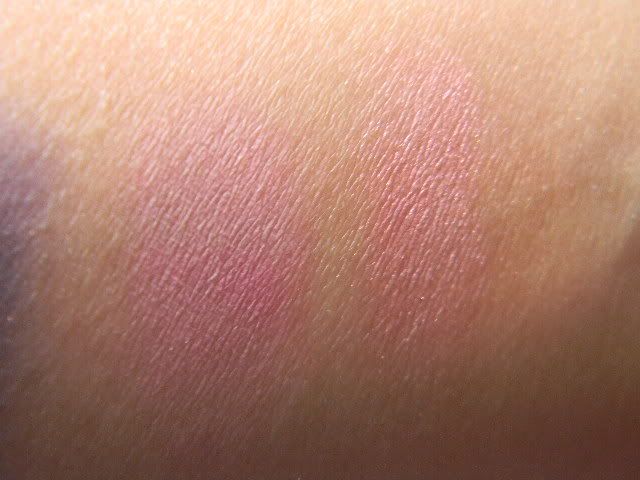 L-R: Summer Rose, Spectacle!, Light Medium/Shimmer
Some Randoms: Taupe Brow Pencil, Earth Tone MSB, Painterly Paint Pot, Take the Day Off

Face Stuff(12$ each):


I saw the packaging for the Dame Edna Compact, and I fell in love with it instantly! The powder itself says "highlight powder" but it's not that at all. I'd say its a golden peachy blush, and I love it! It's sooo smooth! Summer Rose's pattern captivated me, but I couldn't get myself to spend 30$ on it in stores! MSF Natural was just a backup, since mines almost done!
Nikon FM2
On a brighter note, my auntie knew I love photography, and I'm looking for a DSLR, she gave me her old Nikon FM2 from 1990! So this baby is 20 years old! I took a few shots with it yesterday and I'm loving it already! It's fully manual, so a good way to learn how to take real pictures!


& that's it for today m'loves!

Erica <3